Or maybe I should call it Memory Quilt! I started working on this quilt at the beginning of my summer break. It is for my son Jorge. It has t-shirts from when he was 3 to his Senior Year and they are a sample of the different activities and events he was involved. The hardest part was cutting the t-shirts. I attempted to cut them several times, but I would start crying. During one of those days, my friend Gloria called me just when I was in my crying bout. She reminded me, that it would be so much better to have the shirts in a quilt and not boxed away somewhere never to be worn again. Thank you, Gloria. I also doubted my sewing and quilting skills, but my wonderful husband kept reminding me of other successful sewing projects I've done before. Thank you Jorge for cheering me on! When I told my friends from
Kitchen Keepsake
about my project they were very supportive, thank you Amy for the videos you found for me! I've also admired Angie's quilts since she started quilting, so I told her about my project and she offered a very helpful video and advice, thank you Angie.
Angie's blog
has been one of my sources for this project. I'm only halfway done, but I already feel very accomplished, Angie was right, it has been very rewarding.
Jorgie and Jerry have been very supportive, very patient and so helpful! Jorgie really loved it, I should have taken a picture of him when he first saw it! And Jerry was so impressed with it, he is looking forward to his quilt! Thank you guys, you are the best!
Eventhough the quilt isn't finished I wanted to share a picture of the t-shirts all put together. I'll show the completed project once is done.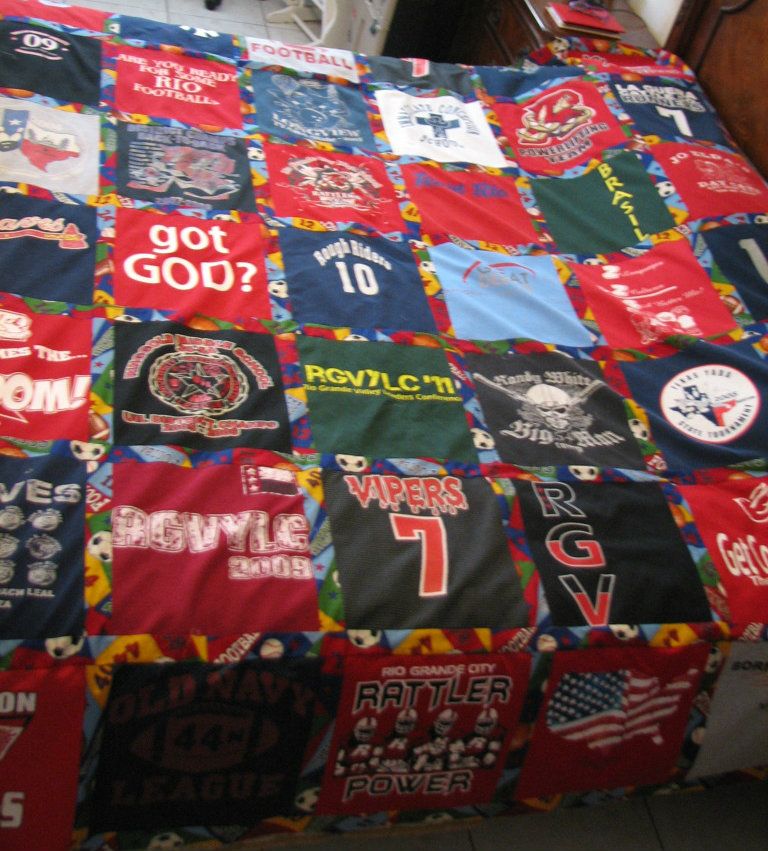 It is pretty big! My next step is to get the fabric for the backing and the filling. Get ready guys!(Jorge, Jorgie and Jerry) We are going shopping!